Posts for tag: cosmetic dentistry
By United Dental Group, PC
October 09, 2020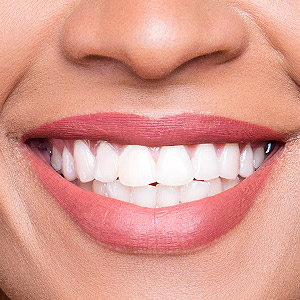 As far as your appearance goes, the most important teeth you have are those in the "smile zone." These are the teeth most visible when you smile—and the ones that awkwardly stand out if they're chipped, worn or otherwise flawed. More than any other teeth, they determine how inviting your smile is to others.
You might think you'll need extensive cosmetic dental work to fix these kinds of dental defects. But that may not be necessary: We may be able to use a dental material known as composite resin to repair the defects in your "smile zone" teeth in one office visit.
Composite resins are a combination of ceramics and plastics that have been around for some time. They've only recently come into wide use, though, with the development of new techniques to bond them to tooth surfaces. They're ideal for chips, cracks, or decayed areas where front teeth make contact with one another. They may also be used occasionally to reshape irregular or misaligned teeth.
You'll first need a complete dental examination to determine if composite resin bonding is an appropriate approach for your situation. If so, we'll begin by preparing the tooth surface to better accept the resin material. We'll then apply the liquid form of the material in layers, along with other agents to increase the material's strength. Each layer is cured (hardened) before applying the next layer.
As the layers build up, we shape the material to achieve a normal tooth appearance. We'll also incorporate your individual color shadings, so that the prepared tooth blends well with surrounding natural teeth. In effect, the procedure requires as much artistry as technical skill to create a natural look.
Though not as strong as porcelain veneers or crowns, composite resins are durable if not subjected to heavy biting forces. And for a few hours in the dentist's chair with minimal tooth preparation, a composite resin treatment can create a dramatic and exciting change in your appearance.
If you would like more information on composite resin bonding, please contact us or schedule an appointment for a consultation. You can also learn more about this topic by reading the Dear Doctor magazine article "Artistic Repair of Front Teeth With Composite Resin."
By United Dental Group, PC
February 07, 2019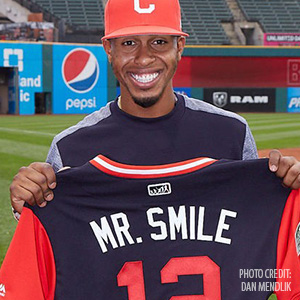 At the first-ever Players Weekend in August 2017, Major League Baseball players wore jerseys with their nicknames on the back. One player — Cleveland Indians shortstop, Francisco Lindor — picked the perfect moniker to express his cheerful, fun-loving nature: "Mr. Smile." And Lindor gave fans plenty to smile about when he belted a 2-run homer into the stands while wearing his new jersey!
Lindor has explained that he believes smiling is an important part of connecting with fans and teammates alike: "I've never been a fan of the guy that makes a great play and then acts like he's done it 10,000 times — smile, man! We've got to enjoy the game."
We think Lindor is right: Smiling is a great way to generate good will. And it feels great too… as long as you have a smile that's healthy, and that looks as good as you want it to. But what if you don't? Here are some things we can do at the dental office to help you enjoy smiling again:
Routine Professional Cleanings & Exams. This is a great place to start on the road toward a healthy, beautiful smile. Even if you are conscientious about brushing and flossing at home, you won't be able to remove all of the disease-causing dental plaque that can hide beneath the gum line, especially if it has hardened into tartar, but we can do it easily in the office. Then, after a thorough dental exam, we can identify any problems that may be affecting your ability to smile freely, such as tooth decay, gum disease, or cosmetic dental issues.
Cosmetic Dental Treatments. If your oral health is good but your smile is not as bright as you'd like it to be, we can discuss a number of cosmetic dental treatments that can help. These range from conservative procedures such as professional teeth whitening and bonding to more dramatic procedures like porcelain veneers or crowns.
Tooth Replacement. Many people hide their smiles because they are embarrassed by a gap from a missing tooth. That's a shame, because there are several excellent tooth-replacement options in a variety of price ranges. These include partial and full dentures, bridgework, and dental implants. So don't let a missing tooth stop you from being Mr. (or Ms.) Smile!
If you'd like more information about oral health or cosmetic dentistry, please contact us or schedule an appointment for a consultation. You can also learn more by reading the Dear Doctor magazine articles "Beautiful Smiles by Design" and "The Impact of a Smile Makeover."
By United Dental Group, PC
July 22, 2017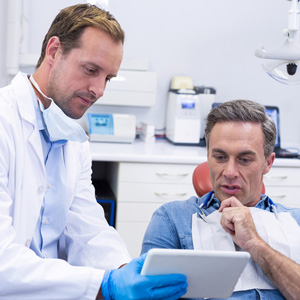 Most of us wouldn't think of buying a new car without a "test drive." It's a serious investment, so you want to make sure you're comfortable with your new ride.
Like an auto purchase, the plan you and your dentist agree on to cosmetically enhance your teeth and gums — a "smile makeover" — is a significant investment. Wouldn't it be nice to "test drive" your future smile before you undergo any procedures?
Actually, you can — two ways, in fact. For one, your dentist could use computer imaging software that alters a photo of your face to show how your smile will appear after dental work. These computer enhancements are a great planning tool for making decisions on the look you want to achieve.
But even the best computer images only provide a static, two-dimensional representation of your new smile. It can't capture all the angles and movement dynamics of any proposed changes. That's where the other way, a trial smile, is a true test drive — you can see your future smile in action.
With a trial smile, your dentist temporarily places tooth-colored material called composite resin on your teeth to simulate the proposed changes. The resin can be shaped and sculpted to create a life-like replica that you'll be able to view in all three spatial dimensions. What's more it will give you a chance not only to see what your new smile will look like, but to actually experience how it feels in your mouth.
Creating a trial smile is an added expense and it's only available during your consultation visit — the dentist will need to remove the resin before you leave. But you'll still be able to get a good impression of what your final smile will be like. You'll also be able to take photos you can show to family and friends to get their impressions of your proposed new look.
A trial smile allows you to know beforehand what your dental work investment will provide you, and even fine-tune your makeover plan before work begins. With this particular kind of "test drive" you'll have greater assurance that you'll be happy and satisfied with the end results.
If you would like more information on trial smiles, please contact us or schedule an appointment for a consultation. You can also learn more about this topic by reading the Dear Doctor magazine article "Testing Your Smile Makeover."