Posts for tag: dental implant
By United Dental Group, PC
November 29, 2020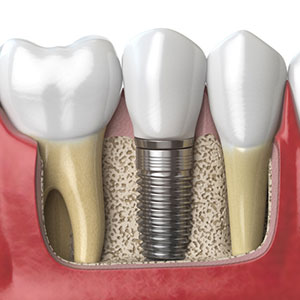 Getting a new implant tooth in only one day sounds too good to be true. But it's true—up to a point. Whether or not you can undergo an immediate crown replacement (attaching a crown to an implant right after surgery) will depend mostly on the underlying bone.
Traditionally, an implant crown isn't attached until several weeks after surgery to allow bone cells to grow and adhere to an implant's titanium surface (osseointegration). The gums are sutured back in place to protect the metal implant until it develops a durable hold within the bone. But this also leaves you with a noticeable missing tooth gap during the integration period.
A "tooth in a day" procedure gives you a full smile right after implant surgery. There is one catch, though—this first crown will be temporary and it won't be able to receive biting pressure.
Until the bone and implant fully integrate, attaching a full-sized permanent crown can damage the implant. To avoid this, the initial crown is slightly shorter than the future permanent crown. This prevents it from contacting solidly with teeth on the other jaw while biting or chewing, which can generate enough force to potentially damage the implant.
If you undergo an immediate-load crown on your implant, you'll have to return later for the full-length permanent crown. In the meantime, though, you'll avoid the embarrassment of a missing tooth in your smile.
With that said, the target bone must be healthy and intact for you to undergo a "tooth in a day" procedure. That isn't always the case with missing teeth—over time, bone volume can gradually diminish. The subsequent loss can complicate implant placement, which must be exact to achieve the most natural outcome. If extensive bone loss exists, you may need grafting to build up enough bone to adequately support an implant.
Even if an implant can be placed, the bone may still be too weak to allow for immediate crown placement. In that case, the traditional procedure may be the best course to allow the bone and implant to fully bond.
To determine if you're a candidate for a "tooth in a day" implant procedure, you'll first need to have a thorough dental exam that includes an assessment of bone health. If it's sound, you may be able to have a full smile right after implant surgery.
If you would like more information on dental implant restorations, please contact us or schedule an appointment for a consultation. You can also learn more about this topic by reading the Dear Doctor magazine article "Same-Day Tooth Replacement With Dental Implants."
By United Dental Group, PC
September 05, 2019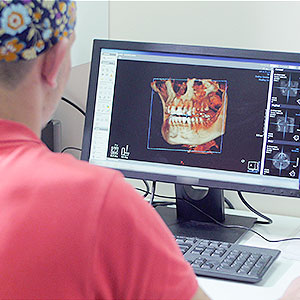 Compared to other dental restorations—a few of which have been around for over a century—implants are a relatively recent development. But even though it's just now entering its fourth decade, recent advances have catapulted implant therapy well beyond where it began.
That's due mainly to digital technology. Two examples of this, computed tomography (CT) and 3-D printing, are increasing the accuracy and efficiency of implant placement.
Properly placing an implant is one of the most important elements in achieving a natural and attractive result. But finding the best location is often difficult due to a lack of suitable bone volume, the patient's bite or the proximity of anatomical structures like nerves and blood vessels. CT imaging, especially Cone Beam CT scanners (CBCT), is helping to make implant placement planning easier.
Unlike the static, two-dimensional views of standard x-rays, CBCT takes hundreds of images and digitally blends them together to create a virtual 3-D model of the patient's jaw and face. Dentists can view this highly detailed model on a computer monitor from various vantage points and better identify possible obstructions. With better information about what "lies beneath," they can more accurately pinpoint the best implant site.
Creating the ideal plan is one thing—successfully implementing it is another. Dentists often create a surgical guide that helps them drill in precisely the right positions during surgery. The guide, which resembles a mouthguard, fits over the gums and contains marker locations for drilling.
Many dentists are now using 3-D printing to create these surgical guides. A 3-D printer turns a digital model of the guide based on measurements of the patient's mouth and proposed implant locations into an actual physical object "printed out" layer by layer of special polymer material. The end product can be more precise than guides created by other means.
These and other technological developments are helping implant therapy rise to a new level of success. With the resulting increase in accuracy, efficiency and less treatment time, tomorrow's implant patients will be the ultimate beneficiaries.
If you would like more information on restoring missing teeth with dental implants, please contact us or schedule an appointment for a consultation. You can also learn more about this topic by reading the Dear Doctor magazine article "How Technology Aids Dental Implant Therapy."
By United Dental Group, PC
July 27, 2019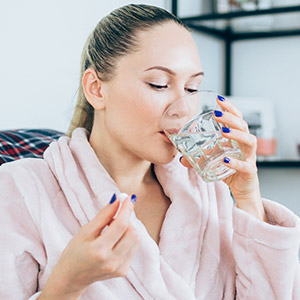 Millions of microorganisms call your mouth home—and while most are friendly, some are not. An invasive procedure like implant surgery can disrupt the mouth's soft tissues and allow disease-causing bacteria to enter the bloodstream.
This isn't necessarily a major concern if your immune system is sound—your body will move quickly to quash any developing infection. But if your body's defense is weak or compromised by other health conditions, an ensuing infection could cause you problems. In the case of a dental implant, a localized infection around it could lead to its failure.
The bone normally grows and adheres to the surface of an implant soon after it's placed, giving it the added strength and durability for which implants are best known. A bacterial infection, though, could impede bone integration and weaken the implant's hold within the jaw.
One way to avoid this is by treating patients at high risk for infection with an antibiotic before the procedure. In one recent study, researchers concluded that patients receiving a 2-gram dose of amoxicillin an hour before implant surgery helped reduce the risk of future implant failure.
But before taking this route, the dentist must first decide whether antibiotic pre-treatment might be more detrimental than beneficial to an individual patient. Antibiotics can cause side effects in certain people ranging from diarrhea to allergic reactions. Healthcare providers must also be prudent with administering antibiotics for the good of society in general—overuse can potentially give rise to antibiotic-resistant bacteria.
A number of healthcare associations highly recommend antibiotic pre-treatment for any dental patient with prosthetic heart valves, a history of infective endocarditis, a heart transplant and similar heart conditions. They also recognize patients with conditions like prosthetic joints, weakened immune systems, diabetics or other serious health problems could also benefit from antibiotic pre-treatment, but leave it to the physician's discretion on whether or not it's appropriate for an individual patient.
If you're planning to undergo implant surgery or a similar procedure and are concerned about infection, speak with your dentist about whether you would qualify and benefit from antibiotic pre-treatment. If appropriate, taking an antibiotic beforehand could minimize your infection risk.
If you would like more information on pre-surgical antibiotic treatment, please contact us or schedule an appointment for a consultation. You can also learn more about this topic by reading the Dear Doctor magazine article "Implants & Antibiotics: Lowering Risk of Implant Failure."